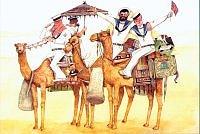 Who called these sods "Ships of the Desert"!!!
And while the lads were doing the tourist bit and being all respectable and sober...
where were our gallant leaders??
(Specially for Eggy)
No Comment
One day the truth about this affair will come out, suffice to say it involved "silver nitrate" and its effects on the human body!!!